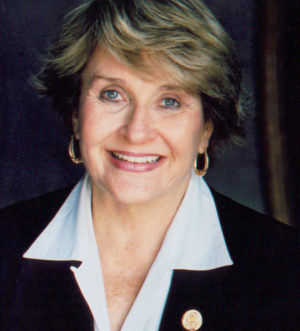 Louise Slaughter
Louise Slaughter is running for re-election to U.S. Congress, District 25
Congresswoman Louise Slaughter is committed to helping the United States develop a sustainable future through advancements in green technology, protecting natural resources and supporting renewable energy development.
The Congresswoman has secured more than $1.2 million in public and private funding to help companies at Eastman Business Park, one of America's largest publicly owned electric power providers, accelerate the commercialization of their technology.  She secured $2 million from the U.S. Department of Energy for OLEDWorks of Rochester, an energy efficient and recyclable light source, to support the commercialization and development of their technology, the doing of which would reduce energy costs for families and businesses as well as create less waste.  Additionally, Congresswoman Slaughter supported a grant from the U.S. Department of Energy for $450,000 to be allotted to Rochester's Intrinsiq Materials so that they can further develop and commercialize the use of nickel silicide and copper in solar power cells which would result in lower cost and a greener manufacturing process.
Aside from her notable support of companies developing green and renewable energy, she has worked a bipartisan manner to successfully fully fund the Great Lakes Restoration Initiative Act—an act that funds the Great Lakes Restoration Initiative program for five years at a funding level of $300 million per year in order to provide drinking water, support jobs, commerce, agriculture, transportation, and tourism in the Great Lakes Region.
Throughout her twenty-eight years in Congress, Slaughter has been committed to protecting and rehabilitating the environment for current and future generations and she will remain dedicated if re-elected to represent the greater Rochester area of District 25.