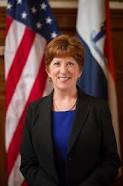 Kathy Sheehan
Kathy Sheehan is running for Albany Mayor
Since assuming office in 2014, Albany Mayor Kathy Sheehan has been a strong proponent of the environment.
Sheehan has pioneered several environmental efforts including the first rezoning Albany has seen in 50 years. As part of this extensive project, she has worked with the Housing Department to get funding for green roofs. Aside from rezoning, Kathy has secured state funding for the Madison Avenue Street Calming Project and recently signed joint letters with mayors from across the United States, committing Albany to the goals outlined in the Paris Climate Accords.
If re-elected, Kathy Sheehan will continue to fight for the environment and make Albany a clean and safe place to live.