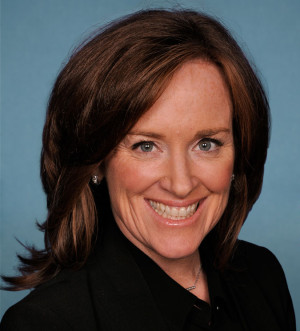 Kathleen Rice
Candidate Kathlueen Rice is running for re-election in Congressional District 4.
Having only been in office for one term so far, Congresswoman Kathleen Rice has proven her dedication to addressing the issues associated with climate change as they immediately affect the coastal communities within her district and the nation as a whole.  
Representing a district still recovering from the aftereffects of Superstorm Sandy, the Congresswoman has helped to secure federal grants for The City of Long Beach to repair its water purification plant that was damaged by the storm.  She has taken other measures to address the issue of climate change as the co-sponsor of legislation that would encourage cleaner energy use (H.R. 3041 and H.Res.637) and regulate fracking (H.R. 1902 or the Protect Our Public Lands Act and H.R. 4215 or the CLEANER Act of 2015), the doing of which would aid in transitioning Long Island and the nation away from fossil fuels and towards clean energy causing a significant reduction in our carbon footprint.
Congresswoman Rice will continue to build bipartisan support for efforts to cut carbon emissions, make investments in clean energy sources and combat climate change if she is re-elected.