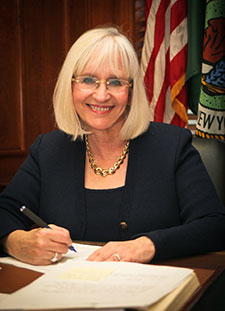 Judi Bosworth
Judi Bosworth is running for North Hempstead Town Supervisor
Elected in 2013, Judi Bosworth's concern for the environment has been evident. She has worked determinedly to protect our natural resources, especially parkland and clean water.
Bosworth's has shown a passion for clean drinking water and protecting aquifers by working to get $450,000 from New York State to replace septic system at North Hempstead Beach Park and initiating a "Only Rain in the Drain" campaign which educates the public on the link between storm drain waste and waterway waste. During development plans for North Hempstead, Bosworth ensures that the surrounding woodland remains untouched. Furthermore, she launched the Solarize North Hempstead campaign in 2016, partnering with New York State to find solar companies that would provide free site assessments and special incentives and discounts to town property owners. She has also improved the quality of life in North Hempstead by passing legislation banning ATVs, dirt bikes, and snowmobiles from town property, and building dozens of bat houses in town parks to decrease mosquito populations.
If re-elected, Bosworth will continue her work to protect drinking water, and looks forward to begin on new initiatives –  such as a pilot program for battery powered leaf blowers and other lawn equipment.