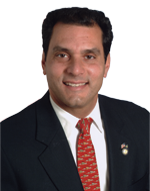 Joseph Saladino
Assemblyman Joseph Saladino is running for re-election, District 9
Since his election in 2004, Saladino has been a strong ally in the fight against climate change and to advance public health. As a member of the Committee on Environmental Conservation, Saladino has been able to accomplish a great deal.
This legislative session, Saladino co-sponsored bills to authorize industrial development agencies to provide technical and financial assistance to agricultural producers for products grown, harvested or produced within the state, to establish a tax credit for the purchase and installation of geothermal energy systems, to establish a paint stewardship program to ensure that leftover paint and empty containers will be managed in a manner that is protective of human health and the environment, and to establish a tax credit for farmers who make food donations to food banks or other public, charitable or not-for-profit emergency food programs among other successful bills.
Saladino also called for the containment and remediation of the Grumman Navy plume, the worst plume of carcinogens in a sole-source aquifer anywhere in the nation. If re-elected to serve as an Assemblyman, Joseph Saladino will continue to create and support legislation aimed at protecting the environment and the health of New Yorkers.