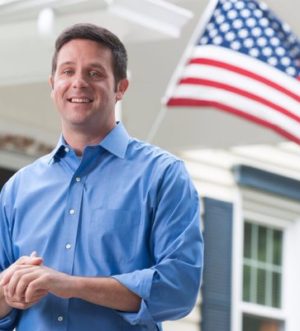 John Plumb
John Plumb is running for Congress, District 23
A commanding officer at the Navy Reserves and former United States Naval officer, John Plumb is on the path to continue his commitment to serving the country by running to represent New York's 23rd Congressional District.
Using his extensive training as military official as well as a scientist and engineer, John Plumb worked with Senator Ken Salazar as a Congressional Science and Technology Fellow in 2005 and later as a personal staff member to help advance renewable energy portfolio standards, protect the National Renewable Energy Laboratory and push for funding for cellulosic ethanol.  He was part of a team that created the Colorado Energy Research Collaboratory— an organization that works to develop renewable energy products and technologies and quickly transfer them to the marketplace so as to support economic growth with renewable energy resources.  Resulting from this work, Plumb was the recipient of numerous awards, most notably the Secretary of Energy Achievement Award, the Office of the Secretary of Defense Exceptional Public Service Award and the Department of State Superior Honor Award.
Plumb understands the implications and intricacies of a compromised environment, particularly as they relate to national security issues.  If he is elected to Congress, he intends to organize scientifically informed policies that protect land, air and water as well as move the country towards adopting an economy centered on clean energy.