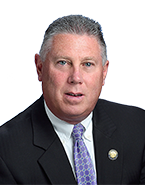 John McDonald III
Assemblyman John McDonald III is running for re-election, District 108
Since his election in 2012, Assemblyman John McDonald III has consistently supported legislation to preserve and protect the environment.
Assemblyman McDonald co-sponsored a bill to authorize funds for the support of the Historic Hudson-Hoosic Rivers Partnership (A.5079) and a bill to streamline and enhance the viability and effectiveness of the Brownfield Opportunity Area program (A.7970). He also co-sponsored bill A.4327 to require the commissioner of the department of health to implement a drinking water information program designed to provide the public with access to information and reports concerning the state's public drinking water systems and to participate in the federal drinking water watch program.
Additionally he has worked closely with Community Roots and the City of Albany and Department of Health on food security, community gardens and programs geared towards educating our youth on proper nutrition for healthy lifestyles. He helped to create and finding funding for the Clean Water Infrastructure Grant Program.
If re-elected Assemblyman McDonald will continue to support a pro-environmental agenda to benefit all New Yorkers.