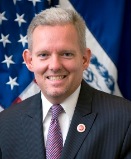 Jimmy Van Bramer
Jimmy is running for New York City Council, District 26
Since 2009, Jimmy Van Bramer, elected to represent District 26 in the New York City Council, has been a steadfast supporter of environmental initiatives that serve to protect the environment and natural resources within his community and throughout the City at large.
The Councilman received a perfect 100 on our Environmental Scorecards from 2014 to 2016, and has supported efforts to protect air and water quality, improve access to healthy, local, and affordable produce, improve building efficiency, support biking safety, and invest in green workforce development, among others.  Within his district specifically, he has invested millions of dollars in renovating and improving parks such as Hunter's Point South Park in Long Island City, allocated nearly $50,000 for neighborhood improvement services including graffiti cleanup and electronics waste disposal, and added over a hundred new trash bins to combat litter.
Van Bramer will continue to advocate for and support causes that uphold the utility and preservation of New York's environment if re-elected to the Council.