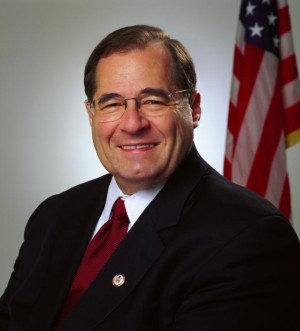 Jerrold Nadler
Jerrold Nadler is running for re-election in Congressional District 10
Jerrold Nadler has exemplified his commitment to environmental protection and regulation through both legislation and action since being elected to Congress in 1992.
The Congressman has led efforts to ensure that the Environmental Protection Agency uses its full federal authority and responds to major environmental disasters, such as the BP oil spill, more aggressively.  In response to the aforementioned oil spill and its environmental impact, Nadler sponsored a bill, H.R. 1922 (the Ban Toxic Dispersants Act of 2015), to amend the Federal Water Pollution Control Act with respect to the use of dispersants, establishing new procedures for their use and ensuring the safety of public health, water quality and the environment.  The Congressman has also co-sponsored bills to reduce greenhouse gas emissions (H.R. 1971 or the Climate Solutions Act of 2015), fight against hydraulic fracturing (H.R. 1482 or the Fracturing Responsibility and Awareness of Chemicals Act of 2015; H.R. 1902 or the Protect Our Public Lands Act and H.R. 1460 or the FRESHER Act of 2015) and reauthorize the weatherization and State energy programs (H.R. 3420 or the Weatherization Enhancement, and Local Energy Efficiency Investment and Accountability Act).
Congressman Nadler has been at the forefront of efforts to move goods into and out of New York more effectively by constructing a tunnel under New York Harbor that would reconnect the City to the nation's freight rail system, the doing of which would reduce greenhouse gas emissions by thousands of tons, among other things.
Moving forward, the Congressman will remain a strong voice on climate change and environmental justice if he is re-elected.