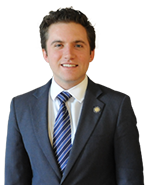 James Skoufis
Assemblyman James Skoufis is running for re-election, District 99
Since his election to State Assembly in 2012, Assemblyman Skoufis has introduced and supported numerous pieces of legislation aimed at furthering New York State's efforts to go green.
As a member of the Assembly's Climate Change Workgroup, Skoufis is committed to accelerating New York's move to a renewable state. Some initiatives that he has worked on are eliminating coal power plants, working with the town of Woodbury to increase organic recycling pickup from once per week to twice per week, and lobbying to increase train capacity and ridership in Orange County.
In this legislative session, Skoufis has co-sponsored effective legislation to help the environment. He created the Propane Education and Safety Act (A.0054), prohibited oil and natural gas on any highway (A.0211), and has consistently supported a moratorium on fracking; supported smart growth efforts; advocated for legislation that would make our state healthier and safer; and has pushed for increased funding in the state budget for the EPF, climate change mitigation, and other important programs.
If re-elected to State Assembly, Skoufis will continue to promote impactful environmental legislation to benefit all citizens of New York State.