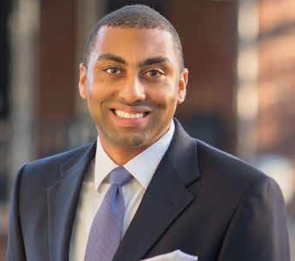 Jamaal Bailey
District Leader Jamaal Bailey is running for New York State Senate, District 36
As the Community Relations Director for Assembly Speaker Carl Heastie, Jamaal Bailey knows how to reach out to a community, hear people's voices, and create change. If elected to the State Senate, Bailey will work for families to ensure that they have adequate resources and equal opportunities.
While canvassing in his district, he identified a persistent problem in the number of food deserts and the lack of healthy food options for families. Bailey is dedicated to not only educating children about why and how they should preserve the environment, but also to educating them on how to grow food. He believes these two initiatives combined will foster an appreciation of food and the environment it is grown in. Bailey is committed to ensuring adequate funding for environmental agencies and programs, and strongly supports the program Seed to Plate, which currently takes place in schools, teaching 5th and 6th graders about our food systems.
NYLCV is confident that Jamaal Bailey will be an advocate for the environment and for New Yorkers across the state.