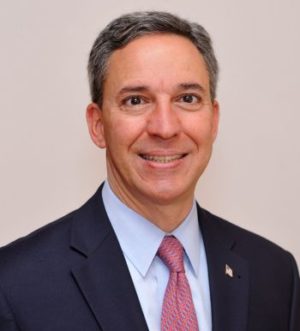 Jack Martins
Jack Martins is running to be elected as Nassau County Executive.
Note: NYLCV has jointly endorsed both Laura Curran and Jack Martins for Nassau County Executive.
Jack Martins has a long history of promoting sound environmental practices that protect the health of Long Island's residents as well as its natural resources.
As former Mayor of Mineola, Martins spearheaded the Village's efforts to develop and implement a new Master Plan to embrace smart growth concepts and transit oriented development. Notably, the Master Plan promoted smart growth by creating an overlay district in Mineola's downtown that allowed for the construction of projects to create a livable and sustainable community in and around the Mineola train station.
As the former representative of District 7 in the New York State Senate, he sponsored and co-sponsored legislation aimed at protecting New York's natural resources, most notably Long Island's sole-source aquifer. In this capacity, he participated in numerous meetings with NYLCV and other stakeholders aimed at solidifying the safety and security of drinking water which culminated in securing funding for a comprehensive Long Island Aquifer Study. As the sole-source aquifer in Long Island faces critical challenges, such as plume flow, saltwater intrusion and pesticide pollution, the data from this study will provide a roadmap for addressing these issues regionally.
Martins will continue to work in a collaborative effort with municipalities across Long Island to protect their shared natural resources and encourage sustainable growth and transit oriented development if elected as Nassau County Executive.