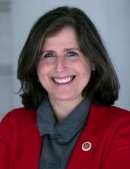 Helen Rosenthal
Helen is running for New York City Council, District 6
Helen Rosenthal has maintained a 100% score on our scorecard for the past three years in a row. Her commitment to environmental issues is evident from her record of sponsoring environmentally friendly legislation and improving constituents' quality of life.
In order to reduce noise pollution in New York City, Rosenthal co-sponsored legislation to ban the noisiest tourist helicopters, helped negotiate a ban on Sunday flights of tourist helicopters, and achieved a 50% reduction in flights the rest of the time. She has also advocated for clean fuel for school buses, and for the City to permanently close the Central Park Loop north of 72nd Street to vehicles as well as the West Drive.
Consistently upholding safety, Rosenthal authored a bill called "Cooper's Law" which holds holds TLC-licensed drivers accountable for causing critical injury or death in a crash as a result of a moving traffic violation. She also introduced legislation (Int. 863-2015) that would require the text on delivery cyclist vests to be reflective and at least two inches in height, so residents will be able to file a claim against businesses whose delivery cyclists break traffic safety laws.
If she is re-elected, Rosenthal has plans to make solar energy a priority. She has held a series of forums which teach people what steps they can take to make their buildings solar-powered. She aims to get community centers to use solar power as well.