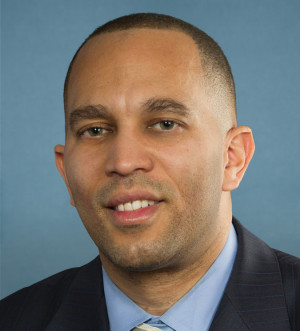 Hakeem Jeffries
Candidate Hakeem Jeffries is running for re-election in Congressional District 8
Elected to Congress in 2012, Hakeem Jeffries has shown commitment to addressing a wide range of environmental concerns as they affect the communities within his district.
In addressing flood damage and recovery efforts in the wake of Superstorm Sandy, Congressman Jeffries sponsored legislation to provide assistance to housing cooperatives damaged by major disasters and provide relief to homeowners affected by major disasters who have mortgages insured by the FHA or guaranteed by Fannie Mae or Freddie Mac.  He has also supported efforts to ban hydraulic fracturing (H.R. 1902 or the Protect Our Public Lands Act) and address environmental issues such as chronic exposure to noise from aircraft and low-income home energy assistance (H.R. 3384 or the Quiet Communities Act of 2015 and H.R. 2226 or the Home Energy Utility Assistance Act).  Of exceptional note, the Congressman received a 100% pro-environment voting record on the annual LCV Scorecard for the year of 2015.
Moving forward, the Congressman intends to promote environmental issues and keep them at the forefront of Congressional elections.