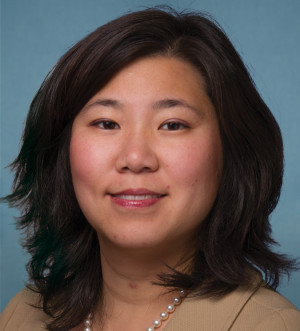 Grace Meng
Grace Meng is running for re-election in Congressional District 6
Since being elected to Congress in 2012, Grace Meng has been a strong ally in the fight for environmental regulations and conservation programs not only within her district but on national and international levels as well.
Aside from being the Co-Founder and Co-Chair of the Quiet Skies Caucus and having played a role in the creation of a community airplane noise roundtable, Meng sponsored legislation (H.R. 3384 or the Quiet Communities Act of 2015) seeking to re-establish the Office of Noise Abatement and Control in the Environmental Protection Agency in response to the Federal Aviation Administration's 2012 implementation of new routes for flights departing LaGuardia Airport, the doing of which had adverse effects on residential communities within Queens.  
The Congresswoman is the co-sponsor of many environmentally geared pieces of legislation that address national environmental concerns including the preservation of national lands (H.R. 2430 or America's Red Rock Wilderness Act; H.R. 1902 or the Protect Our Public Lands Act and H.R. 239 or the Udall-Eisenhower Arctic Wilderness Act), the improvement of air and water quality (H.R. 4470 or the Safe Drinking Water Act Improved Compliance Awareness Act), and the regulation of hydrofracking (H.R. 1548 or the BREATHE Act; H.R. 1460 or the FRESHER Act of 2015 and H.R. 1977 or the COAST Anti-Drilling Act).  Meng has also sponsored an Amendment, H.Admt.951, to allow more than one U.S. Fish and Wildlife Service law enforcement officer to be placed at a diplomatic post within an African country in order to assist local wildlife rangers in the protection of African elephants.
If Congresswoman Meng is re-elected, her priorities will include combating wildlife trafficking, the illegal trade of ivory and the practice of shark finning.