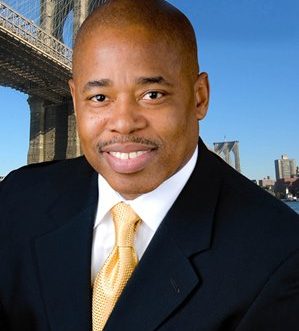 Eric Adams
Eric Adams is running to be re-elected as Brooklyn Borough President.
Brooklyn Borough President Eric Adams has been an instrumental partner and  advocate in advancing a pro-environment agenda since being elected in 2013.
In 2016, Adams released a report regarding the importance of sustainability coordinators in schools and called on the DOE to fully fund these roles in order to educate the youth on sustainability and reduce the carbon footprint of New York City schools.  He also released a report in 2017 outlining state and city-level recommendations to ensure that New York City is able to modernize gas stations by expanding infrastructure for electric vehicles, fuel cells and compressed natural gas fueling sources.  
Time and time again, he has proven his commitment to protecting New York City's environment not only through political rhetoric, but through a series of tangible measures.  Borough President Adams created the Renewable and Sustainable Energy Taskforce (ReSET), which meets on a quarterly basis to improve energy efficiency literacy, connect residents to green rebates and incentives, and advocate for microgrids, solar power, and other alternative energy sources.  He established an annual Earth Week "Borough Hall Bike to Work" event, launched a "Healthy Workplace Challenge," engaging businesses to provide healthier food options at meetings and events and created "Connecting Residents on Safer Streets" (CROSS) to improve walking safety at and around senior centers and schools.  Within the borough, he has launched a number of pilot programs including "Smart Cities," which tests technologies to monitor energy usage, water loss, and critical infrastructure at borough hall and  "Adopt-a-Storm-Basin," which reduces the overflow of storm basins during heavy rainfall.
Building off of the expansive work he has already done, Adams would like to, among other things, create pollinator gardens in all borough schools, fully fund sustainability coordinators in schools, and add hundreds of units of affordable housing in green buildings if re-elected as Brooklyn Borough President.