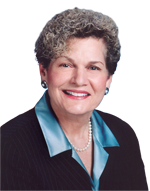 Ellen Jaffee
Assemblywoman Ellen Jaffee is running for re-election, District 97
Assemblywoman Jaffee has always been an ally in the fight for environmental conservation and protection. Since her election to State Assembly in 2006, Jaffee has sponsored countless pieces of legislation to maintain New York's natural resources, and standards of living. She is also currently a member of the Committee on Environmental Conservation.
This session, Jaffee has sponsored legislation giving a tax credit to those who opt for a programmable thermostat (A.3464), providing a tax credit for the purchase and installation of geothermal energy heating systems (A.5508), allowing the Department of Health to set standards for testing drinking water from privately owned wells (A.2295), and creating an education program to inform the public of potential health effects of consuming water that does not meet the state drinking standards (A.0804).
Jaffee has also worked with local activists to stop the expensive Desalination Plant on the Hudson River, and negotiated with New Jersey Transit to voluntarily lower the idling times of their trains at the Spring Valley rail yards. This not only lowered noise levels, but emissions rates fell, which was crucial in her community due to its high asthma rates.
This year, Jaffee is a co-sponsor of legislation that would create a task force on outdoor environmental education and recreation that will benefit residents of New York state by fostering stewardship and conservation of the environment, and an appreciation of the importance of the wise use of natural resources as well as acknowledgment of the health benefits of time spent in nature.