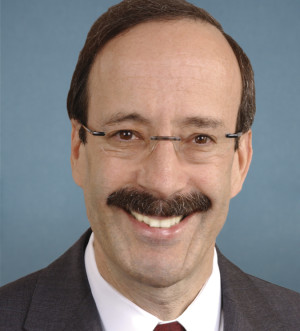 Eliot Engel
Eliot Engel is running to be re-elected in Congressional District 16
The current representative for New York's 16th Congressional District, Eliot Engel has been a consistent champion in the fight for environmental protection since being elected in 1988.
As a senior member of the House Energy and Commerce Committee, its Subcommittee on Energy and Power, and co-Chair of the Oil and National Security Caucus, Engel is committed to the development and implementation of clean, renewable energy technologies in order to bolster the economy, protect the environment and strengthen national security.  The Congressman has sponsored legislation such as the Open Fuel Act (H.R. 4047) which would require 30 percent of new cars in 2018, 50 percent in 2019 and in each subsequent year, to operate on nonpetroleum fuels, in addition to or instead of petroleum based fuels; the Offending Oil Polluters Act (H.R. 3760) which would amend the Internal Revenue Code of 1986 to deny certain tax benefits to persons responsible for the discharge of oil or other hazardous substances into navigable waters and the State and Local Fleet Efficiency Act (H.R. 3506) which would enable State and local promotion of natural gas, flexible fuel, and high-efficiency motor vehicle fleets.
In addition to his work to incentivize and expand use of renewable energy, Engel has been a strong supporter of efforts to close the loopholes that enable the fracking industry to circumvent environmental regulations, improve oceanic conservation, protecteaco Americans from toxic exposures to dangerous chemicals and fully fund and permanently reauthorize the Land and Water Conservation Fund.  If re-elected into office, the Congressman will continue to support environmentally sound policies and oppose the various efforts that seek to undermine them.