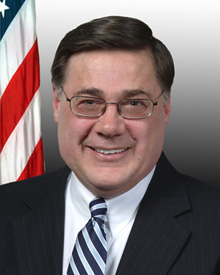 Ed Romaine
Edward Romaine is running to be re-elected as Brookhaven Town Supervisor.
As Brookhaven Town Supervisor, Romaine has worked immensely to limit greenhouse gas emissions. He has established a fuel efficiency standard of 33 MPG for town vehicles and replaced old town cars with hybrid models, he has reduced vehicle emissions by more than 15 percent from 2005 levels, he has revised solar code to prevent the clear cutting of trees for solar farms, he has committed to planting 10,000 new trees by 2020, and has lobbied for legislation to expand the Long Island Central Pine Barrens Core Preservation Area. He supports all of the initiatives of the NYLCV.
As continued Brookhaven Town Supervisor, Edward Romaine will further his advocacy and concern for the environment.