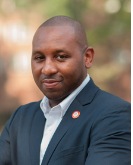 Donovan Richards
Donovan is running for New York City Council, District 31
Since being elected in 2013, Donovan Richards has diligently advocated for a pro environmental legislation, especially since he has voted in favor of all NYLCV Legislative Priorities and boasts a 100% scorecard voting record from 2014-2016.
As Chair of the Committee on Environmental Protection, Councilman Richards has sponsored various key bills including: "Green Buildings Package" (Intro 1165), "Electrical Vehicle Charging Infrastructure" (Intro 1124), "Creating a Solar Ombudsperson within the NYC Department of Buildings" (Intro 739), "Child Safe Products" (Intro 803). Specifically, Richards has promoted legislation to create an office of solar energy, while additionally introducing legislation to reduce city government greenhouse gas emissions by 40% by 2030. Councilman Richards has also worked with colleague to convince Governor Cuomo to veto a natural gas terminal of the coast of New York.
If re-elected, Donovan Richards will continue to push New York City to become a more sustainable environment, especially with his concrete plans to reduce emissions.