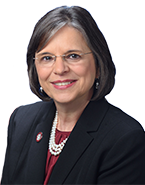 Donna Lupardo
Assemblywoman Donna Lupardo is running for re-election, District 123
As a member of the Committee on Environmental Conservation, Donna has been able to sponsor dozens of pieces of legislation to create green infrastructure, decrease children's exposure to toxic chemicals, and expand the availability of mass transportation.
In this past legislative session, Lupardo has been the sponsor of legislation securing clean air ventilation in residential buildings (A.3098), requiring new school buildings to comply with green building standards (A.3103), and requiring schools to complete periodic testing of water sources to monitor lead (A.9687). She also co-sponsored a bill to place greater regulations on children's toys to ensure that toxic chemicals are not in them (A.5612A).
Assemblywoman Lupardo has advocated for the expansion and funding of transit services to rural areas of the state and supported efforts to make her district more walker and bicycle friendly. She also hosted a briefing with the Restore NY Woodlands coalition to advocate for funding in the state budget and to raise awareness about the challenges facing woodland owners and regeneration of forest land.
If re-elected, Assemblywoman Lupardo will continue the valuable work that she has done advocating for the citizens of New York State.