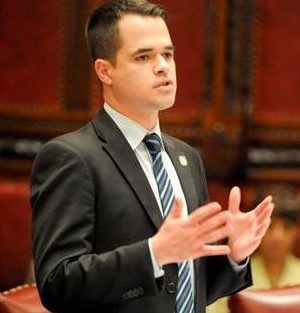 David Carlucci
Senator David Carlucci is running for re-election, District 38
Senator David Carlucci is committed to protecting the health of New Yorkers by advocating for environmental preservation. Since his election to the Senate in 2010 he has worked to forward progressive and beneficial policy.
He sponsored bill S.2839 which will establish a New York State "nuclear storage safety fund" at any nuclear facility that is located in an emergency planning zone (EPZ) with a population exceeding two hundred thousand people. The funds may be expended for both development of renewable resources via NYSERDA with a priority for projects in schools and municipal buildings statewide and for reimbursement of related emergency expenditures by counties in the EPZ.
The Senator has been an outspoken voice against hydrofracking in New York by sponsoring bill S.5592 to suspend hydraulic fracturing for the extraction of natural gas or oil. Additionally, he authored a bill to prohibit the use of pesticides at children's overnight or summer day camps (S.1420) and passed legislation to create a water task force in Rockland County to study ways to improve conservation in the area (S.4858).
Senator Carlucci looks forward to continuing to defend the health and safety of New Yorkers and the state they inhabitant by supporting worthy legislation.