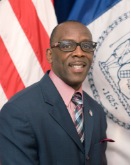 Daneek Miller
Daneek is running for New York City Council, District 27
Elected in 2013, Daneek Miller has stood behind efforts to improve constituents' quality of life, with a major focus on public transportation.
Miller has worked to improve public transit options, including creating the "Freedom Ticket" which will allow city residents to use commuter rail with a free transfer to bus and subways. He helped introduce and expand the use of hybrid fuel buses, improved bus routes, and advocated for more funding for transit. Miller has also taken action to improve our water quality, sponsoring legislation to ban products containing microbeads, and collaborating with colleague Councilmember Donovan Richard to secure infrastructure to address flooding in southeast Queens.
If re-elected, Miller looks forward to dealing with issues of waste transfer and environmental equity.