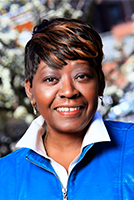 DISTRICT:

141

REGION:

Western New York

GOVERNMENT BODY:

New York State Assembly

YEAR:

2016

CONTACT:

Campaign Website
Crystal Peoples-Stokes
Crystal Peoples-Stokes is running for re-election to Assembly District 141
Since her election to State Assembly in 2002, Assemblywoman Peoples-Stokes has shown her commitment to advancing a pro-environment agenda through her membership on the Committee on Environmental Conservation and her countless pieces of legislature aimed at maintaining and expanding green spaces, bettering New Yorkers' health, and ensuring that generations to come have access to our natural resources.
This legislative session, the Assemblywoman has sponsored legislation to provide a tax abatement related to the removal of leaded paint, to establish environmental standards and protections in the insurance business, and provides incentives and tax credits for offering green insurance, and to to provide the definition of "environmental zones" for purposes of the brownfield redevelopment tax credit. She also created the "Environmental Justice Act" to establish governmental procedures to safeguard residents' health and welfare and achieve environmental justice.She also created a permanent environmental justice advisory group to ensure that no one group of people was experiencing negative environmental impacts unfairly.
If re-elected to serve on the State Assembly, Peoples-Stokes will work hard to lower negative environmental impacts felt by New Yorkers.