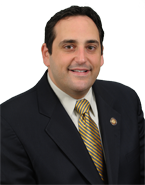 Chad Lupinacci
Assemblyman Chad Lupinacci is running for re-election, District 10
Since his election to State Assembly in 2012, Chad Lupinacci has been an outspoken supporter of alternative energy. He praises it for reducing our carbon footprint, for saving the state and its municipalities much-needed funds, and for promoting the study of science and green technology. Lupinacci has not only been a supporter of alternative energy, he has also sponsored legislation to make alternative energy more of a reality for New Yorkers.
The Assemblyman co-sponsored a bill to provide tax credits for the purchase and installation of geothermal energy systems, and sponsored a bill to allow school districts to receive financial aid for the installation of alternative forms of energy. In addition to energy, Lupinacci has also created legislation to direct the Commissioner of Transportation to complete a master plan for Republic Airport including an environmental impact study and to establish a young farmers NY fund to support young farmers and encourage farming as a career. Lupinacci has also supported legislation to fight the inhumane ivory industry and the shark fin trade.
If re-elected to the State Assembly, Chad Lupinacci will use his legislative power to enact impactful environmental change, and to ensure that New York's energy is as clean as possible, and that New Yorkers are able to take advantage of environmentally friendly materials and practices for no added cost.