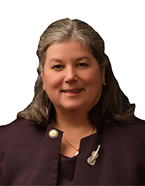 Carrie Woerner
Assemblywoman Carrie Woerner is running for re-election, District 113
Since her election to State Assembly in 2014, Carrie Woerner has been a strong advocate for farmers and underserved communities. Her sponsored legislation has been aimed at helping New Yorkers accomplish their daily tasks in an environmentally friendly way.
In this legislative session, she sponsored multiple bills to bring food retail stores to "food deserts," increasing the presence of healthy and affordable options in underserved communities (A.4960 and A.7873). She has also promoted an increase in bicycle tourism (A.7371), and is working specifically on encouraging the adoption of anaerobic digesters as a sustainable power generation source, particularly in rural communities. Digesters address a variety of environmental concerns, including removal of harmful gasses from the environment and reduced manure runoff into sensitive waterways.
Woerner has supported legislation that strengthens our farms and supports and encourages the next generation of farmers. If re-elected to State Assembly, she will continue the work that she has done and advocate for those whose voices are not always heard.