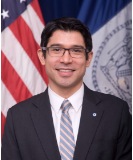 Carlos Menchaca
Carlos is running for New York City Council, District 38
Since being elected to represent District 38 in the New York City Council in 2013, Carlos Menchaca has fought to defend the City's air and water quality both within his waterfront district in Brooklyn and throughout the City as a whole.
The Councilman was the prime sponsor of Intro 858-2015 and Intro 859-2015 placing strict limits on tourism helicopters, both of which were instrumental in helping the City reach an agreement with the helicopter industry to significantly cut down on the number of helicopter tours near residential areas and major parks.  He was also the co-sponsor of Intro 313-2014 to create an air quality task force to make recommendations to address intermittent long-standing and chronic air pollution problems.  In regards to water quality, he was the co-prime sponsor of a bill to ban the sale of personal care products containing microbeads, which pollute the water supply, and the co-sponsor of a bill that promulgates authority to the City to oversee activities that have the potential to contribute pollutants to stormwater runoff and bodies of water surrounding the City.  Additionally, Menchaca provided a grant of $7,500 to the Gowanus Canal Conservancy to operate their Clean Green Program, a volunteer-based environmental stewardship initiative that takes place monthly from March to November.
Scoring a 100 percent on our Environmental Scorecard for the past two years, Menchaca has shown his dedication to defending the City's natural resources, and we know he will continue to do so if re-elected.