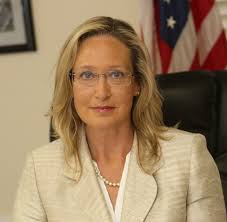 Bridget Fleming
Bridget Fleming is running for Suffolk County Legislator, District 2
Bridget Fleming has displayed unwavering commitment in her promotion of energy efficiency, renewable energy and open space preservation since being elected to represent the Second District in the Suffolk County Legislature in 2015.
Serving as a member of the Southampton Town Council from 2010 to 2015, Fleming supported a fleet management plan requiring fuel-efficient vehicles, as well as an energy audit of Town Hall.  She served as a liaison to the Dark Skies Committee and supported the installation of energy-efficient bulbs throughout the Town.  Now, as County Legislator, Fleming has been a participant in the Yaphank Master Plan Working Group to ensure the continued potential siting of large-scale solar, and has hosted NYSERDA LI Green Homes seminars in her district to promote both solar and home energy efficiency measures.  She helped to organize the Public Transportation Working Group and travelled to Albany in order to advocate for public transportation funding and is currently exploring the options for installing electric vehicle charging stations at County facilities.
Legislator Fleming has also worked on open space preservation and farmland strength in her district, and is currently exploring revisions to open space acquisition policies to allow for coastal resiliency planning and implementation.
The re-election of Fleming will ensure that the Second Legislative District and Suffolk County remain represented by a strong and instrumental environmental advocate.