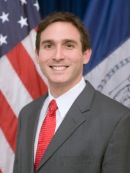 Ben Kallos
Ben is running for New York City Council, District 5
The well-being of New Yorkers has been a top priority to Council Member Kallos since his election in 2013. He has authored, supported, and sponsored various pieces of legislation to make this priority a reality.
Kallos has worked to clean up our city by collaborating on legislation (Int. 1573) to codify into law Zero Waste by 2030. He has also authored and supported mandates (Int. 1572) for labeled trash bins, recycling, and compost for places of public accommodation, and co-sponsored legislation to divert from the use of plastic bags. Kallos has been influential in pushing the Sanitation Commissioner not to send any residential waste from Manhattan into other boroughs.
In his next term, Kallos will be working on a bill dealing with organic waste. He would also like to see the expansion of bike-share to Roosevelt Island, a part of his his district that is currently not served by this type of program.