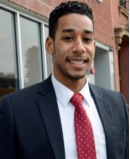 Antonio Reynoso
Antonio is running for New York City Council, District 34
Since being elected to represent District 34 in the New York City Council in 2013, Antonio Reynoso has focused on issues of environmental justice and equity, introducing legislation that protects vulnerable and poor communities from suffering from the brunt of harmful practices, particularly concentrated waste dumping.
Councilman Reynoso serves as Chairman of the Council's Committee on Sanitation and Solid Waste Management and co-sponsored legislation to reduce permitted capacity at solid waste transfer stations in overburdened community districts within the City (Intro 495-2014).  He has allocated $5 million for renovations to Lindsay Park and Central Knoll park, and designated $500,000 for planting 300 new trees in Ridgewood every year.  With a more equitable process of waste management as well as a focus on green spaces for residents, Reynoso hopes to improve air quality both within his district and throughout the five boroughs.
Reynoso will continue to fight against environmental injustices and advocate for equitable solutions if re-elected to represent District 34 in the City Council.