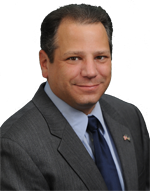 Andrew Raia
Assemblyman Andrew Raia is running for re-election, District 12
Being an Assemblyman since 2002, Andrew Raia has put forth a number of measures in order to decrease negative environmental and health related issues affecting New Yorkers.
Assemblyman Raia has personally met with members of NYSERDA in an effort to advocate for bringing clean energy jobs to New York State. He has also supported numerous initiatives to combat the levels of toxic chemicals in not only our drinking water supply but also in goods and products used by children. Raia also co-sponsored legislation to create the Safe Water Infrastructure Action Program Act which would provide annual funding to municipalities to swap out old, deteriorating pipes and water mains (A.9651). He also co-sponsored legislation to increase disaster preparedness in the State following Hurricane Sandy (A.1937) and to attract young people into the world of agriculture to expand the industry and increase the amount of food produced in the state (A.2952A).
Additionally, Raia has consistently advocated for the increase in funds to the Environmental Protection Fund and has sought tax credits and other incentives to attract green jobs. He also advocated strongly for the refurbishment of the Northport Power Plant. He has also co-sponsored a bill which directs state utilities to develop programs for modernizing the State's electrical system (A.1937).
If Assemblyman Raia is re-elected, he will build on the improvements that he has already made and make his voice and the voice of his constituents and New Yorkers heard.