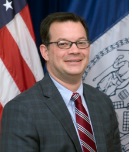 Andrew Cohen
Andrew is running for New York City Council, District 11
Since being elected in 2013 to New York City Council, Andrew Cohen has initiated discussions of bringing environmentally sound technology and initiatives to New York City.
As a passionate member of the Committee on Parks and Recreation and the Committee on Land Use, Councilman Cohen is dedicated to allocating capital budget funds to enhance the urban green space, and looks forward to bringing together the Parks and Resiliency Committees to further restore local parks. Cohen is also a strong supporter of the project to daylight Tibbet's, which will eventually redirect the stream to stop it from spilling into sewers and creating a larger pollution problem as the water flows into surrounding rivers.
If re-elected, Councilman Cohen will remain a proud supporter of pro-environmental legislation and will continue to promote green initiatives.