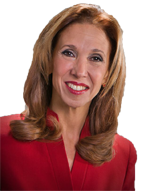 Amy Paulin
Assemblywoman Amy Paulin is running for re-election, District 88
As Chair of the Committee on Energy, Assemblywoman Paulin has been the sponsor of critical pieces of legislation to decrease New York's carbon footprint, and to make clean energy more available to her constituents.
Elected to State Assembly in 2001, Paulin's commitment to advancing a pro-environment agenda has been both consistent and successful. This legislative session, Paulin has created the New York Propane Safety and Education Act (A.0054), required local building and planning regulations to 
accommodate the use of alternative forms of energy (A.0065), and been instrumental in getting provisions in the budget to provide economic incentives for investing in zero-emission vehicles.
In addition to Paulin's commitment to renewable energy sources, she is also the sponsor of legislation that prohibits the application of pesticides at children's summer camps (A.0129), is the co-sponsor of a bill that requires companies to label foods containing GMOs (A.0617), and has been working with constituents to bring municipal food composting to Westchester.
If re-elected, Assemblywoman Paulin will only build on the significant environmental gains that she has created, and will work tirelessly to ensure the health and safety of all New Yorkers.