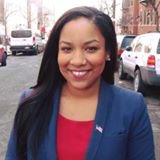 DISTRICT:

84

REGION:

New York City

GOVERNMENT BODY:

New York State Assembly

YEAR:

2018

CONTACT:

Campaign Website
Amanda Septimo
State Assembly
Amanda Septimo, seeking election to the State Assembly as a representative for District 84, has expressed firm commitment to advancing an environmentalist agenda on a large number of fronts. She seeks to promote car-sharing services to reduce emissions and congestion pricing as a way to fund mass transit, improving its reliability and efficiency. She is committed to meeting the Clean Energy Standard targets of 2030 and believes in investment in large-scale renewable energy projects.
Septimo's prior experience includes the extensive work she has done as an activist in promoting Point CDC's, a non-profit youth development and economic revitalization initiative in the South Bronx, environmentalist agenda to construct green spaces and support communities of color. Having been employed as a Community Liaison under Congressman Joe Serrano, she participated in efforts to revitalize the Bronx River and complete the Northeast Greenway. Additionally, she aided efforts to secure a $10 million federal TIGER grant for building a pedestrian bridge over the Bronx River, which increased access to the park and waterfront area.
If elected, Septimo will author legislation to incentivize healthy eating by increasing funding for school meal reimbursements for locally sourced produce as well as developing composting, donation and recycling initiatives to address food waste.