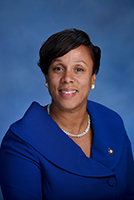 DISTRICT:

29

REGION:

New York City

GOVERNMENT BODY:

New York State Assembly

YEAR:

2016

CONTACT:

Campaign Website
Alicia Hyndman
Assemblywoman Alicia Hyndman is running for re-election, District 29
Although Assemblyman Hyndman has only been in office for one legislative session, she has shown her dedication to advancing a pro-environment agenda. As a member of the Committee on Transportation, Hyndman has worked effectively and dutifully to make commuting to Manhattan easier for her constituents, and all of those in New York City. She sponsored a bill to require the MTA to allow riders traveling within the limits of the city of New York to pay a fare for commuter rail service equal to that of a MetroCard ride and for such riders to make free transfers. Aside from transportation, she also sponsored bills to provide a tax credit to farmers who gave a portion of their crops to food pantries and soup kitchens.
She has also formed a flooding task force that brings together The New York State Department of Environmental Conservation, the New York City Department of Environmental Protection and key community stakeholders to address the ongoing groundwater issues faced in her district. Additionally, she is working closely with a local environmental groups to help address other environmental issues and highlight the natural areas in and around her district.
If re-elected to the State Assembly, Hyndman will work hard to ensure that all New Yorkers have better health and wellness, transportation, and environmental standards.