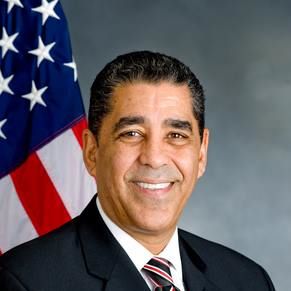 Adriano Espaillat
Senator Adriano Espaillat is running for Congress, District 13
The current representative of District 31 in the State Senate, Adriano Espaillat has had a long and successful history fighting against a wide array of injustices, environmental injustices being one of them.
Sitting on the Environmental Conservation Committee, Espaillat has worked to ensure that state agencies are responsible in their practices and oversight, meeting the highest environmental standards and if not, taking appropriate action to assume accountability.  He authored legislation in the Senate that would require the commissioner of health to take action when areas of lead poisoning are designated, protect the air quality at state-licensed day care centers, require the Department of Environmental Conservation (DEC) to promulgate rules and regulations to establish limits on greenhouse gas emissions and to require the DEC to monitor water contamination throughout the state. The Senator has also fought for farmworker's rights, putting forth a bill that would make provisions for farmworkers in relation to their exposure to pesticides.
Understanding that equitable investments made in the present will ensure a habitable future for generations to come, Espaillat will continue to fight to protect the environment if he is elected to serve in Congress.